@Shorinryu Ryukyukan wants to accept karate students from overseas to continue the Okinawan traditional culture karate and to make it more populer all over the world.
We have been accepting students from U.S.A. and France. If you would like to open a Okinawa Karate Dojo in your home country in the future, or of another style of dojo exists, and want to expand your karate menues with some Okinawa karate, kobudo and Full Contact karate,then please contact us as soon as possible. We will assist you in every way possible.
---
Here are a few karate study course length potions.
(1) two or three weeks
(2)two or three months
(3) six months
(4)one year
(5) over one year

---
Study Karate from France
Marin

Study karate from U.S.A
Wilson Lodrigues
We will decide the sstudying term according to your schedule, and your ability and eagerness to learn karate.
Learning karate is not expensive. We can arrange you prices, then you can decide.
If you are interesting in studying karate in Okinawa, please send the application form by Email.
It will take one or two months to prepare the papers to come to Okinawa for studying.
@>>application form click here!!

---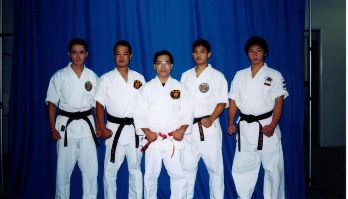 @Ryukyukan Karate Kobudo Federation and All Ryukyu Full Contact Karate Association are willing to make a friendship or sister dojo rerationship . To make friends with each other in order to give the information for developing the karate skills with any kind of style dojo all around the world.
@And if you want to come to Okinawa , we will gladly accept you to help cordinate your plans and take care of you.
@If you want to ,make a friendship or sister dojo rerationship with Ryukyukan, please send the application form, there is no charge.
@>>Friendship or sister dojo rerationship application form click here!!

---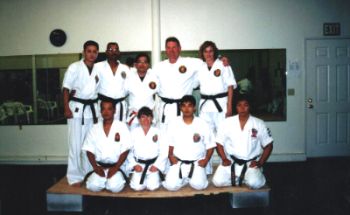 ---
Copyright (C) 2001 ALL RYUKYUS FULL CONTACT KARATE-DO ASSOCIATION . All Rights Reserved